Pampa Metals Corp. ("Pampa Metals" or the "Company") (CSE: PM / FSE: FIRA / OTCQB®: PMMCF) is pleased to report completion of its review and interpretation of the Block 4 Project and the Buenavista Target, and to announce a Non–Brokered Private Placement.
Summarised key findings – Block 4
Block 4

is

the Company's

priority

project

, with characteristics indicative of a large, fertile porphyry copper

–

molybdenum

system, located along the world's preeminent porphyry copper belt in

northern Chile

;

S

oil geochemical data

is

consistent with surface geology,

i

nduced

p

olarisation (IP) geophysics, and

magnetometry, and other complementary data including 3D modeling

and age dating

;

A

nomalous

soil geochemical

values of Mo

,

Cu

and Au

in a heavily supergene leached desert environment,

coincide with mapped

geology,

hydrothermal

alteration,

and geophysical anomalies

;

The combination of

several

geological, geochemical, and geophysical anomalies

on the Block 4 property

is suggestive of a p

otential "cluster" of porphyry copper

–

molybdenum

systems, a

characteristic

typical of

some major porphyry copper districts in Chile and worldwide

;

and

The

Buenavista Target

footprint

is ~1.5 km E

–

W by 1 km N

–

S

al

on

g

a significant geological structure

.
Non-Brokered Private Placement
The Company is also pleased to launch a non-brokered private placement offering (the "Offering") of up to 20,000,000 units ("Units") at a price of $0.15 per Unit for gross proceeds of up to $3,000,000. Each Unit will consist of one fully paid common share one purchase warrant (a "Warrant"). Each Warrant shall entitle the holder to acquire an additional common share at a price of $0.21 for a period of 3 years after the closing of the Offering. In connection with the Offering, the Company will pay finder's fees of up to 7% in cash and 7% in finder's warrants from the sale of Units to third parties sourced by finders. Finder's warrants will be on the same terms as those issued under the Offering and entitle the holder to purchase one common share of the Company at a price of $0.21 per share for a period of 3 years from the closing date.
Proceeds from the Offering will be used primarily to drill test the Buenavista target and the Block 4 Project more broadly, where an initial ~2,100m diamond drill program has been designed to test coincident geological, geochemical, and geophysical anomalies. Residual proceeds will be directed towards due diligence on the identification and possible acquisition of large porphyry copper-molybdenum targets capable of complementing the Company's existing portfolio, as well as general corporate purposes.
Units will be offered by way of the "listed issuer" exemption under National Instrument 45-106 – Prospectus Exemptions in all the provinces of Canada with the exception of Quebec. A potential investor resident in Canada (except Quebec) is not required to be an "accredited investor" under applicable Canadian securities laws to participate in the Offering. The securities forming part of the Units are expected to be immediately freely tradeable under applicable Canadian securities legislation if sold to purchasers resident in Canada.
There is an offering document related to this Offering that can be accessed under the Company's profile at www.sedar.com and at the Company's website. Prospective investors should read this offering document before making an investment decision.
The closing of the Offering may occur in one or more tranches with the final tranche expected to occur on or before February 11, 2023, and is subject to receipt of all necessary regulatory approvals.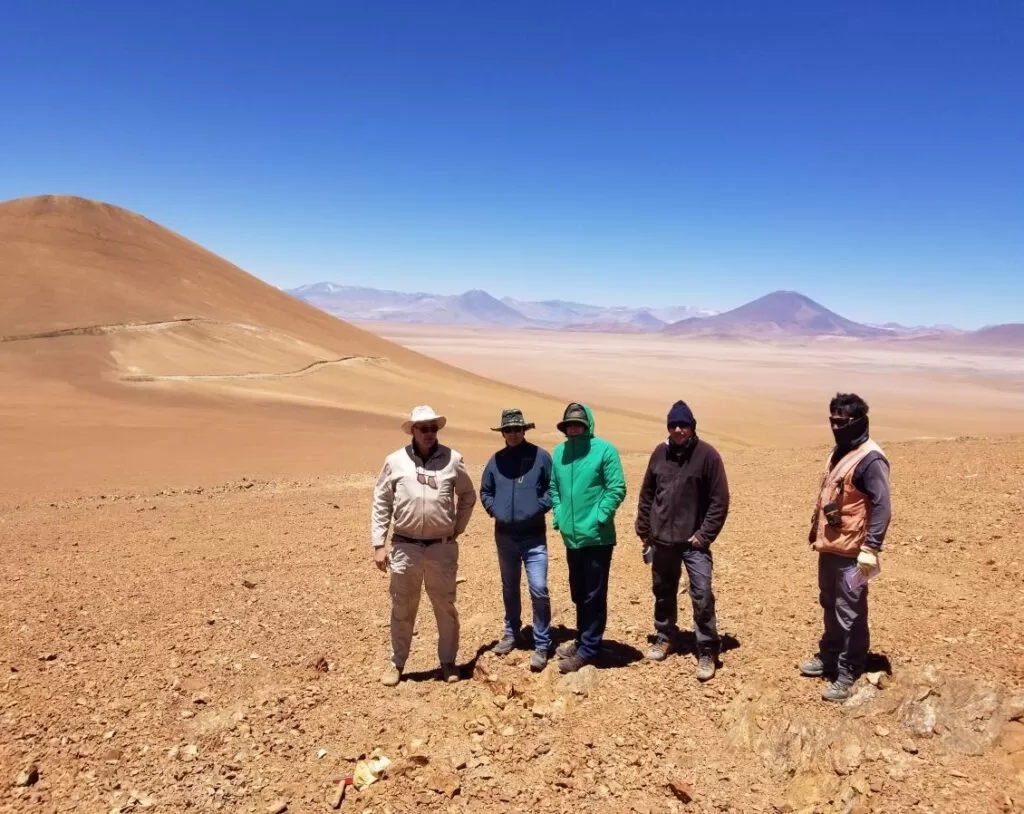 Block 4 – Board & Management Site Visit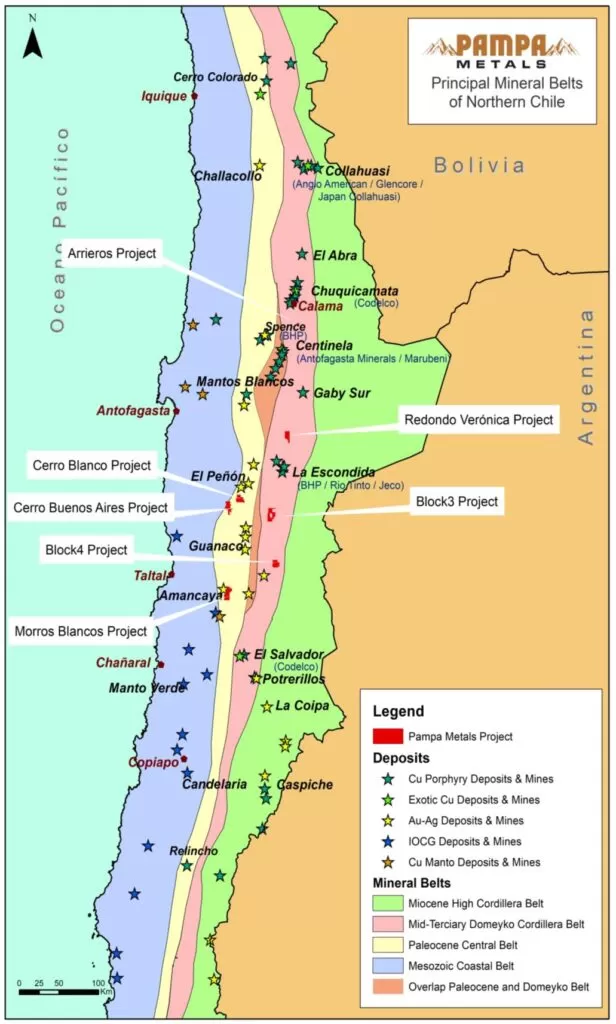 Pampa Metals – Project Locations & Mineral Belts of Northern Chile
Block 4 / Buenavista – Principal Findings & Conclusions from Technical Data
Preliminary results from a soil geochemical survey were previously reported (see news release dated November 10, 2022), but key findings now include:
The soil geochemical data are consistent with key findings identified by surface geology, Induced Polarisation (IP) geophysics, and magnetometry, and other complementary data including 3D modeling.
Clearly anomalous values of Mo (up to 14 ppm Mo) and Cu (up to 1,560 ppm Cu) in soils, in a heavily supergene leached desert environment, coincide with mapped hydrothermal alteration at the key central quartz-stockwork zone and the neighbouring quartz-sulphide breccia zone (previously reported).
Additional sporadic gold anomalies (up to 175 ppb Au), together with the distributions of copper, molybdenum, and pathfinder elements including Zn, Pb, As, and others, suggest Buenavista represents a fertile Tertiary porphyry copper-molybdenum system located along the world's preeminent porphyry copper belt.
Buenavista has a footprint of about 1.5 km E-W by 1 km N-S according to the exploration results to date, and is located on a significant NE-SW trending geological structure revealed by the geochemical dataset and supported by surface mapping.
The geochemical data is also suggestive of a further potential target to the SW of Buenavista, and gives encouragement to the likely existence of a further target under cover to the east of Buenavista, currently defined by geophysical dat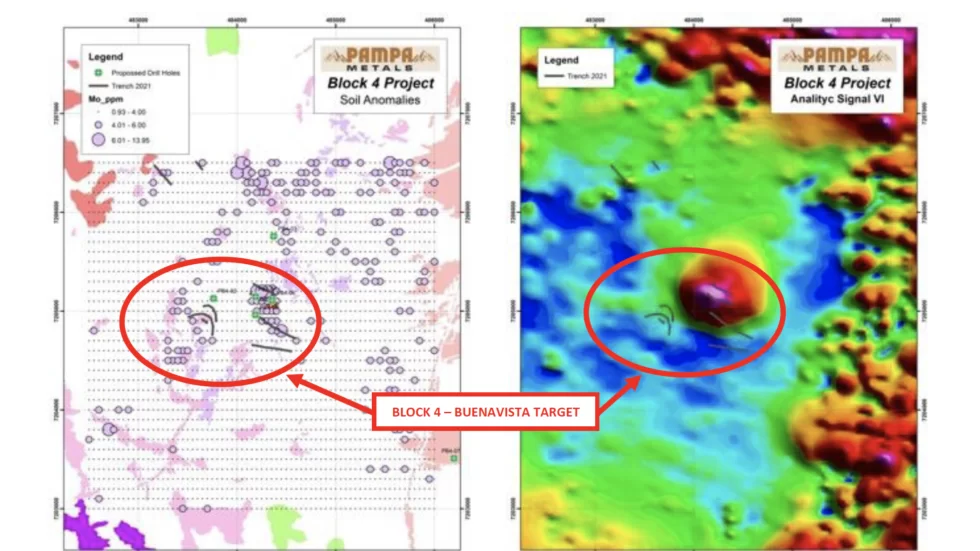 Mo in Soils Compared to Buenavista Magnetic Anomaly
The combination of geological, geochemical, and geophysical anomalies is suggestive of a potential "cluster" of porphyry copper-molybdenum systems on the Block 4 property, an aspect typical of some major porphyry copper-molybdenum districts in Chile and worldwide.
A diamond drilling program to test Buenavista, and likely an additional covered target under cover to the east, is well supported by the various surface datasets, where three to four diamond drill holes totaling around 2,100m have initially been programmed.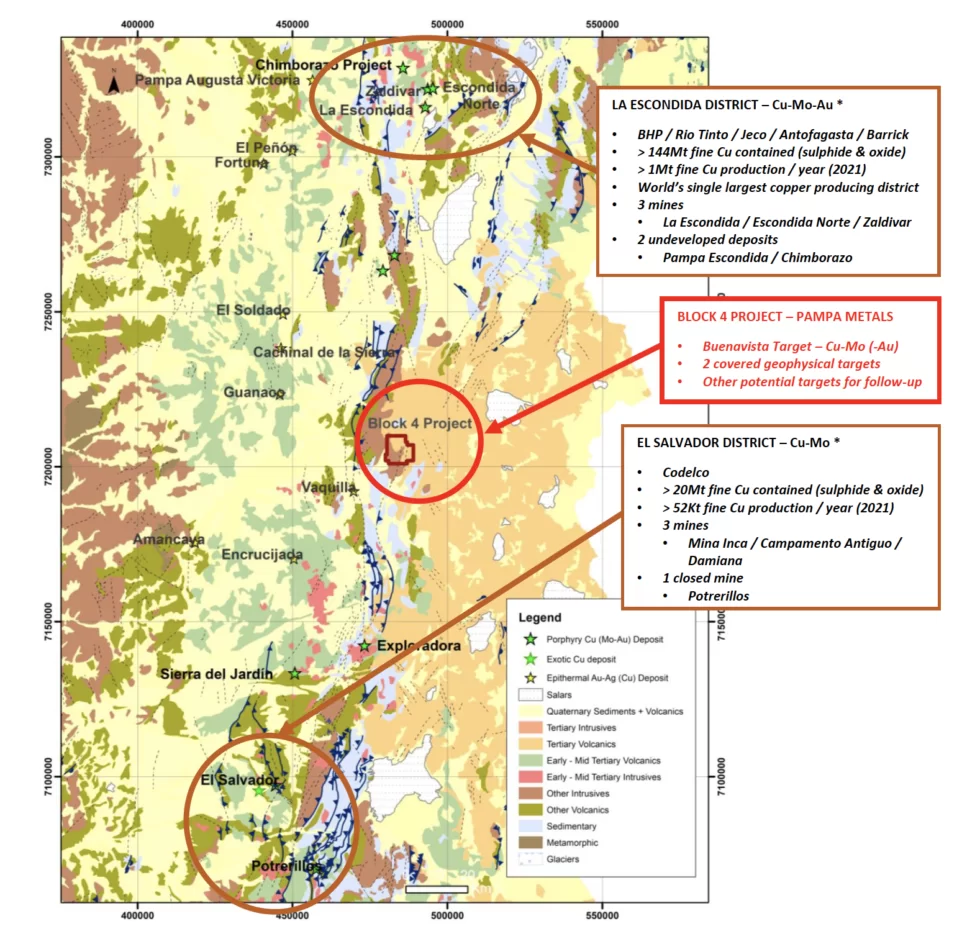 Block 4 – Regional Location Along Domeyko Belt
ABOUT PAMPA METALS
Pampa Metals is a Canadian company listed on the Canadian Stock Exchange (CSE: PM) as well as the Frankfurt (FSE: FIRA) and OTC (OTCQB®: PMMCF) exchanges. Pampa Metals owns a highly prospective, wholly owned, 47,400-hectare portfolio of seven projects for copper, molybdenum and gold located along proven mineral belts in Chile, one of the world's top mining jurisdictions. The Company is actively progressing four of its projects, including completed and planned drill tests, and has two additional projects optioned to Austral Gold Ltd. The Company has a vision to create value for shareholders and all other stakeholders by making a major copper or gold discovery along the prime mineral belts of Chile, using the best geological and technological methods. For more information, please visit Pampa Metals' website www.pampametals.com.
Qualified Person
Technical information in this news release has been approved by Mario Orrego G, Geologist and a Registered Member of the Chilean Mining Commission and a Qualified Person as defined by National Instrument 43-101. Mr. Orrego is a consultant to the Company.
Note: The reader is cautioned that Pampa Metals' projects are early-stage exploration projects, and reference to existing mines and deposits, or mineralization hosted on adjacent or nearby properties, is not necessarily indicative of any mineralization on Pampa Metals' properties. The latest Company Presentation can be accessed at https://pampametals.com/investor/. The securities issued pursuant to the Offering have not, nor will they be registered under the United States Securities Act of 1933, as amended, and may not be offered or sold within the United States or to, or for the account or benefit of, U.S. persons in the absence of U.S. registration or an applicable exemption from the U.S. registration requirements. This news release shall not constitute an offer to sell or the solicitation of an offer to buy nor shall there be any sale of the securities in the United States or in any other jurisdiction in which such offer, solicitation or sale would be unlawful.
ON BEHALF OF THE BOARD
Joseph van den Elsen | President & CEO
INVESTORS CONTACT
Joseph van den Elsen | President & CEO
This email address is being protected from spambots. You need JavaScript enabled to view it.
Neither the CSE nor the Investment Industry Regulatory Organization of Canada accepts responsibility for the adequacy or accuracy of this release.
FORWARD-LOOKING STATEMENT
This news release contains certain statements that may be deemed "forward-looking statements". All statements in this release, other than statements of historical fact, that address events or developments that Pampa Metals expects to occur, are forward-looking statements. Forward-looking statements are statements that are not historical facts and are generally, but not always, identified by the words "expects" and similar expressions, or that events or conditions "will" or "may" occur. These statements are subject to various risks. Although Pampa Metals believes the expectations expressed in such forward-looking statements are based on reasonable assumptions, such statements are not guaranteeing of future performance and actual results may differ materially from those in forward-looking statements.